January 24, 2015
Over the past month I've bought and sold a few radios in an attempt to find something I really like. Here's a short history of radios I've owned recently and some thoughts on each one.
These are mainly thoughts from a user standpoint, not quantititive testing or anything too fancy. I used all of these with my MFJ-1788 40M-15M magnetic loop.
IC-7100

I purchased an Icom IC-7100 in December, 2013, and used it all of 2014. It's a great radio, and covers HF, VHF, and UHF with all modes, including D-Star. It's designed to be a mobile radio, but I've only used it in the shack or camper on a desk. The touch screen is nice, but would be difficult to use in a vehicle.
Pros:
Built-in USB serial and sound card. Run digital modes with just one cable.
HF, VHF, UHF all mode.
Good screen with the ability to display lots of meters at the same time.
Automaticly sets up the nearest D-Star repeaters using a GPS.
SD card slot for recording audio, D-Star QSO logs, and saving/loading settings.
Looks great on a desk. The radio itself can be placed out of the way, and the mic, key, and headset can connect to the head unit.
Cons:
Lack of physical controls requires multiple taps to adjust settings.
Tuning the MFJ loop takes too long (switch to RTTY, tap to enable power adjustment, lower power, tune, rinse and repeat).
Probably not great for mobile, but I only used it as a base station.
The IC-7100 is really a nice radio, but I'm always adjusting things to tune and pull out weak signals. Touch screen with just a few knobs was cumbersome for quick changes.
IC-7410

For Christmas 2014 I bought myself an Icom IC-7410. It only covers HF, so I planned to keep the IC-7100 for UHF/VHF. This is a big radio with a very nice, crisp screen, and lots of buttons and knobs. The IC-7410 has a dedicated power control, which I always find handy as I like to keep power low and adjust as needed.
Pros:
Like the IC-7410, it has built-in USB serial and sound card.
Lots of buttons, knobs, and a big display. Everything I frequently adjust can be done directly.
Great noise reduction. This radio has the best NR I've used so far, at least compared to my IC-7100 and other older radios.
Cons:
The screen is nice, but compared to radios like the Yaesu FT-DX1200, the black and white just seems a bit dated.
Doesn't have a receive-only antenna input, which other radios in this class have.
FlexRadio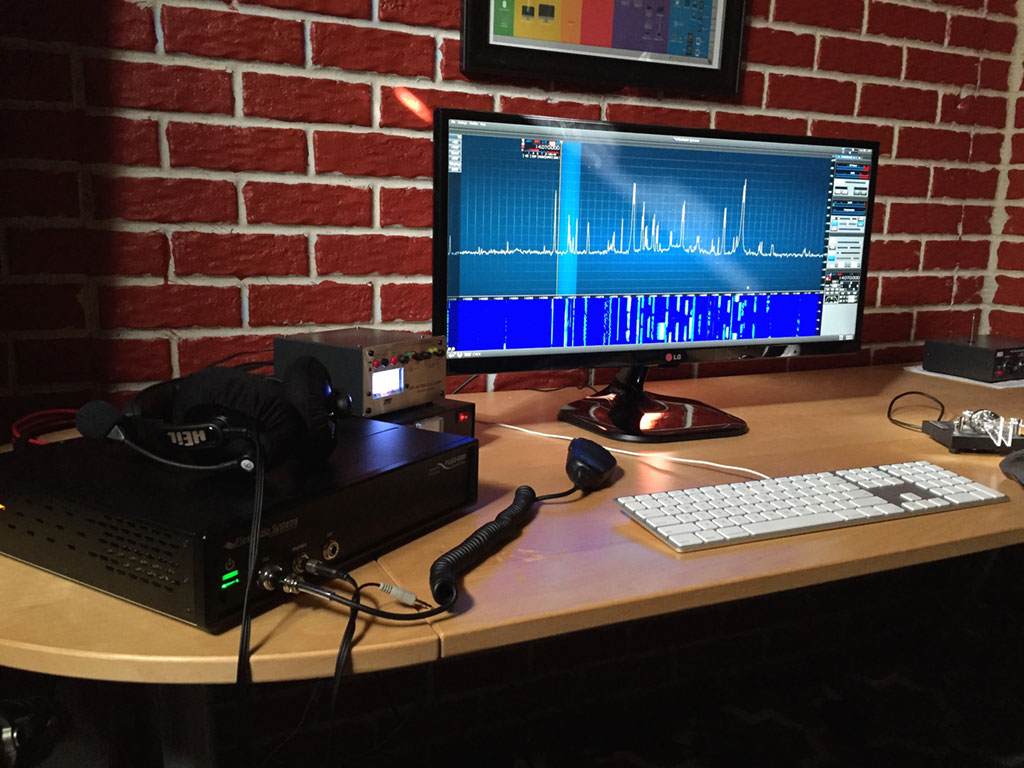 I really enjoyed the IC-7410, but the other day at lunch I was talking with some friends about the newer FlexRadio models. I have no idea why I never thought to try them before, but my friends were very convincing. As a test I ordered the somewhat inexpensive, but older, Flex 1500.
Wow! I've always had an RTL SDR with an HF upconverter, which is fun, but not a very good receiver. I setup my station to let me flip back and forth between the IC-7410 and the Flex 1500 and try various settings, filters, etc. The Flex 1500 was consistantly better able to pull out weak signals. The panadapter, even though it's only 48k wide on the 1500, was amazing.
After playing with the 1500 for a few days I was hooked, but wanted more than 5W. I ended up selling the IC-7410 and the IC-7100, then ordered a Flex 6300.
I'm just getting started with the 6300, but it's incredible. It will show up to 7mhz on the panadapter, and seems to receive as well as the 1500, if not better. Tuning the MFJ loop is easy! I just zoom out the panadapter and can visually tune it almost perfectly. It also has a tune button with a separate power level adjustment. It drops me quickly to a few watts and transmits a tone for tuning, then returns to where I left off.
The 6300 connects via ethernet to my local network. I can be anywhere in the house and run the radio from my MacBook (under Windows 8.1). I've previouly used VNC to run digital modes off the laptop, but with the 6300 it's a direct connection to the radio, and I run a local copy of SmartSDR (the 6300 control software) and fldigi.
As many have noticed, SmartSDR is not as mature as PowerSDR (on the 1500), but it should get better. A new release is expected this Friday, so I'm looking forward to trying it out.
I'll say more about the 6300 after evaluating it a bit longer, but already I can't imagine going back to a traditional radio. I'm keeping the Flex 1500 for portable use in the camper, so I'll always have an SDR with me!